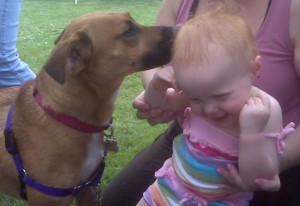 Our pets are valued and treasured as part of our families, but they are not human parts of the family.? It's normal to humanize our pets – they act like furry humans! I know the last time my dog pushed me off the couch so she could spread out, I had to remind myself that she was in my home and that was MY couch! (Sound familiar?)? We have to remember that our pets are not human. The good news is, they don't want to be! Dogs work best when treated like the animals they are. According to the Dog Whisper, Ceaser Millan, "to have a balanced dog, he or she needs exercise, discipline and affection".? Humanizing them creates an off balance dog.? We all should remember deep down that they are not our kids and they need to be treated like dogs.? Fancy outfits, fancy dog food, large dog house and elaborate bedding will not make your dog? happy and balanced.? Playtime, discipline, love, and walks will make them a happy and balanced dog.
There is a great article on Cesear Millan?s website, ?Cesear?s Way? about the Science of Canine Emotions.? Learn more about the science behind your dog?s emotions such as grief, happiness, jealousy and shame.
We want to hear your funny furry child stories and to discuss your pets, share pictures and get advice, please check out our facebook group?for the pet lover.