Tip # 3 – The feast is for the people, not the pets…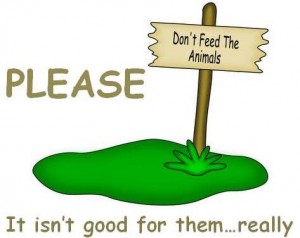 Please DO NOT feed the animals… We should all have this sign on our front door as guests enter our homes.  While our guests may be inclined to drop something here and there, or sneak a quick treat to our pets, we need to request that they don't' upon entering our homes.  These quick treats may result in a second of happiness for our pets, but could create a much more long term problem, including begging behaviors (which are reinforced when fed from the table), allergic reactions, stomach upsets and more. 
I know I have said this before, but it is just so important! Chocolate and candies are BAD for our pets, so everyone needs to be mindful of their candies and sweets around the pets.  Remind all guests not to feed your pets and request parents of small children keep an eye on their children so the kids don't feed the animals either.  No matter what food it is sweet or not, if people eat it, then it's not for our pets.  If a child wants to give the dog a treat, let the child give them a dog treat.  There are plenty of Halloween themed treats that are great for our pets that could be given. 
Be sure to clean up any spilled or dropped food and be careful with any bittersweet and baking chocolate that you may be cooking with, for they contain more theobromine than the average candy bar.   And of course, make sure the garbage is secure and inaccessible to curious noses and paws.