Roxie is such the little playdog sometimes! She often relaxes on one of her 3 beds or the couch in such adorable positions that I swear she is posing for the camera!
This was the first picture we ever took of her…not the clearest but look how small she is??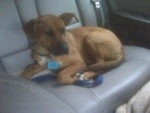 So as I catch her in those poses, I will add them to this post.
We would love your feedback for if I can get enough of these poses, I will create a Playdog Calendar for her or something .